www.map.statistics.gov.lk
User guide
Population and Housing
Population and Housing Census Map Portal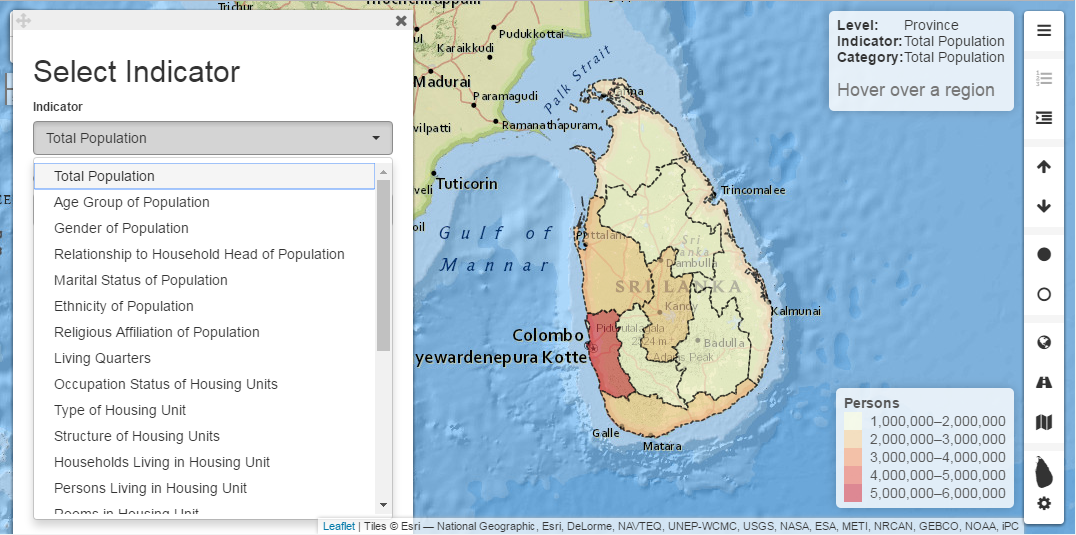 Population and Housing map is a map portal which interactively display Population and Housing information collected in the Sri Lanka Census of Population and Housing - 2012 (CPH 2012) in thematic maps as well as table formats at Province, District, Divisional Secretariat and Grama Niladhari Division levels. This census map portal could display Street map, Saterllite and National Geographic map as the base layers to facilitate comparison between geographical and builtup information with the census collected data.
User guide: How to ...
The message as well as a status box located at the top-right hand side corner of the map portal provides quick help instructions, information related to the area and administrative level currently focused at as well as the selected data values of the selected area interactively and is always on display. Additionally the following graphics and texts formally explain how to get a specific task done within Population and Housing map portal and answers to FAQs.
Developed by Department of Census and Statistics - Sri Lanka
Copyright 2017 DCS, Sri Lanka, All Rights Reserved